Elodie x Stig L.™
Elodie are pleased to announce the release of a unique collection, based on designs created by one of Scandinavia's most well-renowned and appreciated designers of all time – Stig Lindberg. His innovative yet timeless creations are constantly relevant and Elodie are now able to bring it to a whole new generation.
The Swedish Icon
Stig Lindberg (1916-1982) is perhaps the most renowned representative of the celebrated Swedish design of the 20th century. He worked for the Gustavsberg factory just outside Stockholm for most of his career, and achieved much of his fame and acclaim for his eccentric forms and whimsical decorations.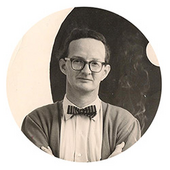 A simple green leaf
This co-lab focuses on Stig Lindberg's "Berså" print. It was created in 1961 and quickly became an icon and a symbol for the Swedish people's affection for motifs that are playful, simplistic and close to nature. Today its status as an iconic print and collectible is recognized by design-minded people in Scandinavia, Finland, Germany, Japan and many other places around the world.